Initiatives for security and safety
Hygienic factories/production lines for security.
Acquired the ISO 9001 quality management certification. We provide safe and secure products in a hygienic environment.
Kabaya Food has manufacturing plants in both the Okayama and Ibaraki Prefectures, where each product is manufactured in a safe and hygienic factory for delivery to consumers through logistics bases throughout the country. In addition, both plants acquired 'ISO 9001 • Quality Management System' certification. We ensure quality for your peace of mind.
The largest 'Okayama Factory' HQ of Kabaya Foods is located on lush land along the Asahikawa, one of the prefecture's three major rivers, and manufactures candy, gummies, biscuits, etc. In 2000, we added a baked confectionery production line and entered the baked confectionery market. In each manufacturing process, we are promoting automation and introduction of robots to improve efficiency, and we are making efforts to reduce the number of people involved in the preparation of raw materials, various manufacturing processes, and wrapping and packaging processes.
In addition, the "Kanto Factory" and the "Kanto No. 2 Factory" in the Hitachi-Omiya city, Ibaraki prefecture are located amid rich nature. The "Kanto Factory" manufactures chocolate, chocolate candy, soda candy, etc. The "Kanto No. 2 Factory" uses the most modern equipment to manufacture chocolate candy. It is located in a very green factory park surrounded by trees.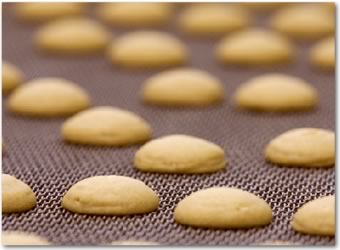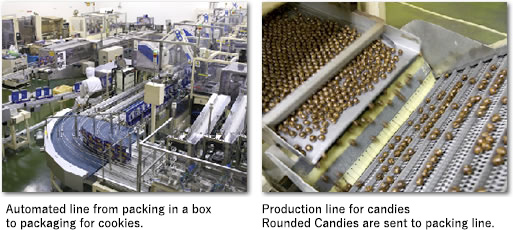 We always impose "corporate morality" on ourselves, with safety and security being the most important words.
In May 2005, Kabaya Foods acquired the "ISO 9001 • Quality Management System" certification. However, we have not rested on our laurels. Kabaya Food products continue to be manufactured in a safe and hygienic environment by adopting a hygiene management system based on Hazard analysis and critical control points (HACCP), and only products that pass various inspections are shipped.
The main raw materials for confectionery are sugar, starch syrup, flour, vegetable oil, cacao beans, milk, etc. Materials purchased are subjected to strict quality inspection before moving to the next process. Even after shifting to the production line, quality is checked at each step. Only the products that pass the final inspection of the quality control department are shipped. With such careful safety and hygiene control in place, we function in a thorough system from manufacturing to logistics, ensuring good quality for everyone.
To respond quickly to the exacting environment surrounding the food industry today, Kabaya Foods has established a quality assurance system of recording and managing its manufacturing history and is striving to provide safe and secure products to customers.
Environmental conservation starts from the concept of "obligation."
We aim to create environmentally friendly products, for which we have acquired an ISO 14001 environmental management system certification.
We at Kabaya Foods acknowledge that our own business activities affect the environment of the Seto Inland Sea, where the Okayama Factory is located amid abundant nature, and the Nakagawa River, where the Kanto Factories are located, and we are actively working on this issue.
As part of these activities. The ISO 14001 certification was obtained for the Okayama Factory in June 2000, for the Kanto Factory that December, and for the Kanto No. 2 Factory in 2012.
In addition, in accordance with this system, each plant carries out total environmental management, such as CO2 reduction, energy saving, resource saving, effluent reduction, recycling efforts, and introduction of wastewater treatment equipment to prevent water pollution. We consider environmental conservation activities as an obvious "obligation," and we are actively engaged.